OUR HERITAGE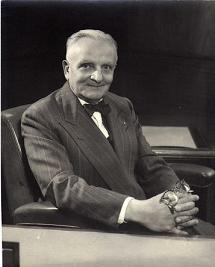 Walter S. Johnson was born in East Saginaw, Michigan in 1884. He moved West while still a youngster, ultimately settling in San Francisco, and graduated from the University of California law school in 1914. After working briefly as an attorney and serving in World War I, Mr. Johnson became a partner in, and later the president of, Tarter, Webster & Johnson, a wholesale lumber firm. In 1927, he founded the American Box Corporation, which later became the American Forest Products Corporation, and served as its president for more than forty years.
Mr Johnson also helped create Friden Calculating Machine Company in 1933 and was elected president in 1945 on the death of its founder. He remained active in the management of both companies until well into his eighties. Mr. Johnson died in 1978.
Walter Johnson received considerable public notice in 1959 with his lead gift to the city of San Francisco for the reconstruction of the Palace of Fine Arts. The building, designed by Bernard Maybeck and originally constructed in 1915 for the Panama-Pacific Exposition, had captured Mr. Johnson's fancy when he visited the Exposition as a young man. The Palace remained an enduring interest throughout his life.
Mr. Johnson gave to many San Francisco institutions and served on many nonprofit boards. As an ongoing legacy, the Foundation continues to make general support grants to many of the same organizations that Mr. Johnson supported during his lifetime.